Roi Et, Thailand, June 3, 2022 – All three Thai pairings, two Kazakh teams and one apiece from Iran, Japan and China captured convincing wins in their respective pools to cruise into the eagerly-anticipated men's quarterfinals of the 4th Asian U19 Beach Volleyball Championships at Ban Nong Ya Ma Community School here on Friday.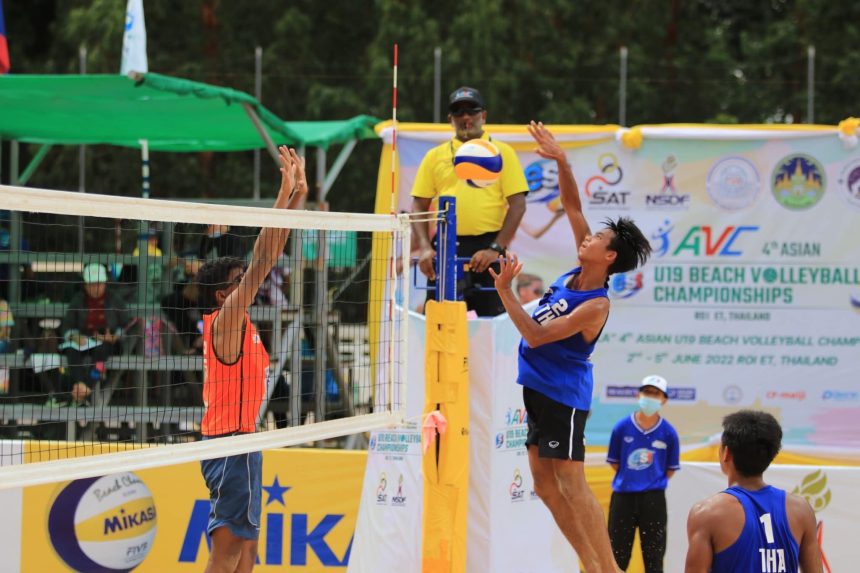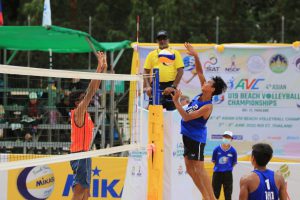 Thailand's top seeds Metin Salila/Nanthiphat Panyasuwankhiri, Phuthanet Khamtao/Saiphirun Ruairung and fifth seeds Narakorn Chumaphai/Wichaya Wisetkan, all of them remained unbeaten, proved too strong for their rivals to eventually top Pool A, Pool D and Pool E respectively, with Metin and Nanthiphat spending 34 minutes in powering past Australians Luke Ryan/Mitchell Croft 21-17, 21-9 and Narakorn and Wichiya demolishing Japanese Kota Kurosawa/Teruki Ryujin 21-14, 21-13.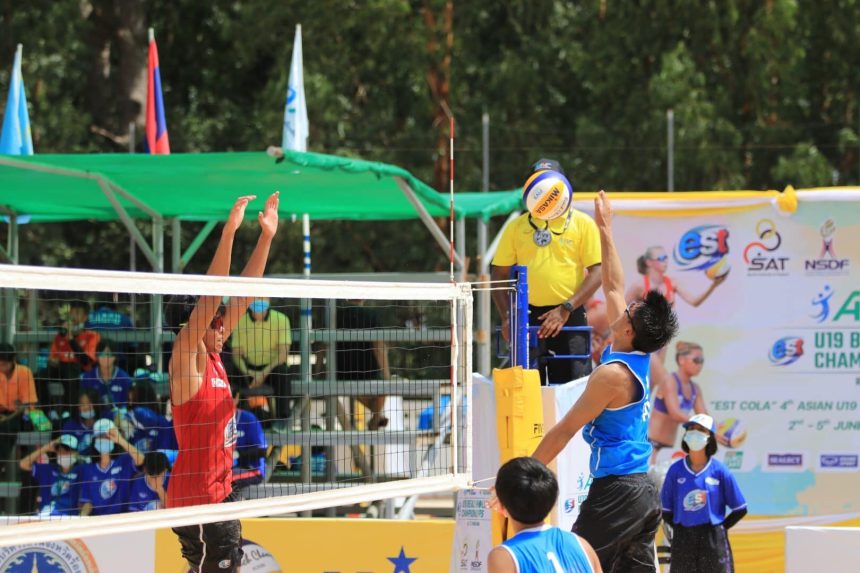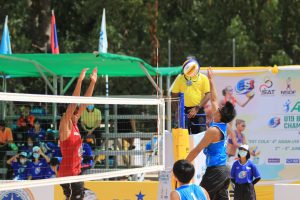 At the end of the pool round-robin preliminaries on Friday, Thailand's Metin/Nanthiphat topped Pool A, followed by Iranians Nima Ormagei/Mohammad Esmaeil Naghipour and Australians Ryan/Croft.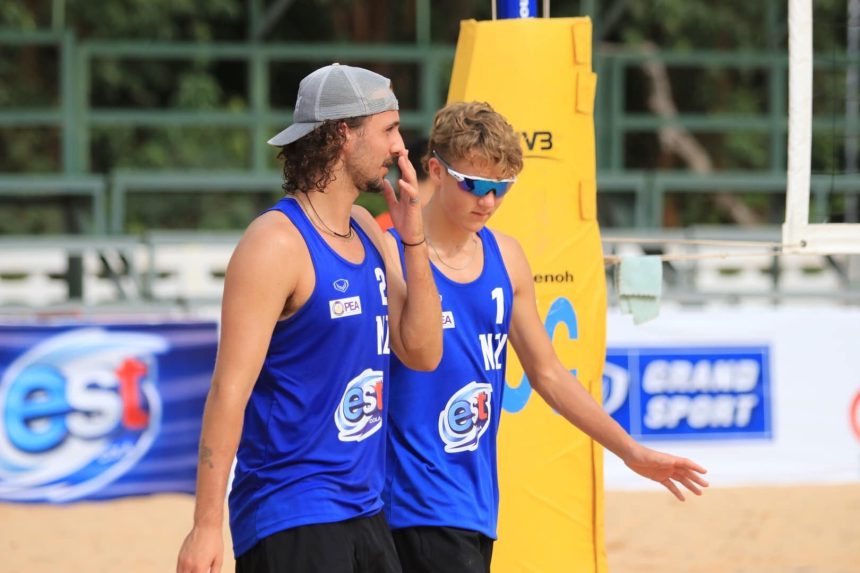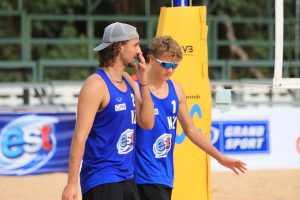 Chinese Song Jinyang/Sun Xinglong captured the top spot in Pool B with Australians Benjamin Hood/Toby Bergh and Laotians Dethnakhone Loungkhod/Soukpaseuth Mounlathsavong in second and third places.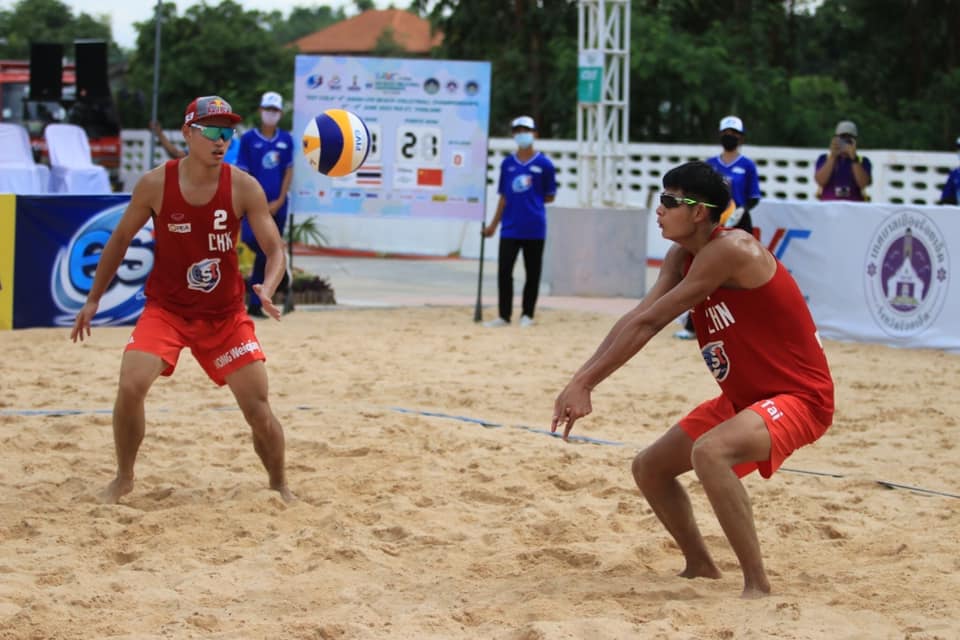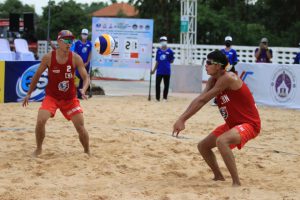 Pool C was dominated by Iranians Habib Naseri/Mahdi Alizadeh Koyakhi, while Thailand's Phuthanet/Saiphirun, Narakorn/Wichaya and Kiwis Charlie Dalton/Juraj Krajci topped respective Pools D, E and F.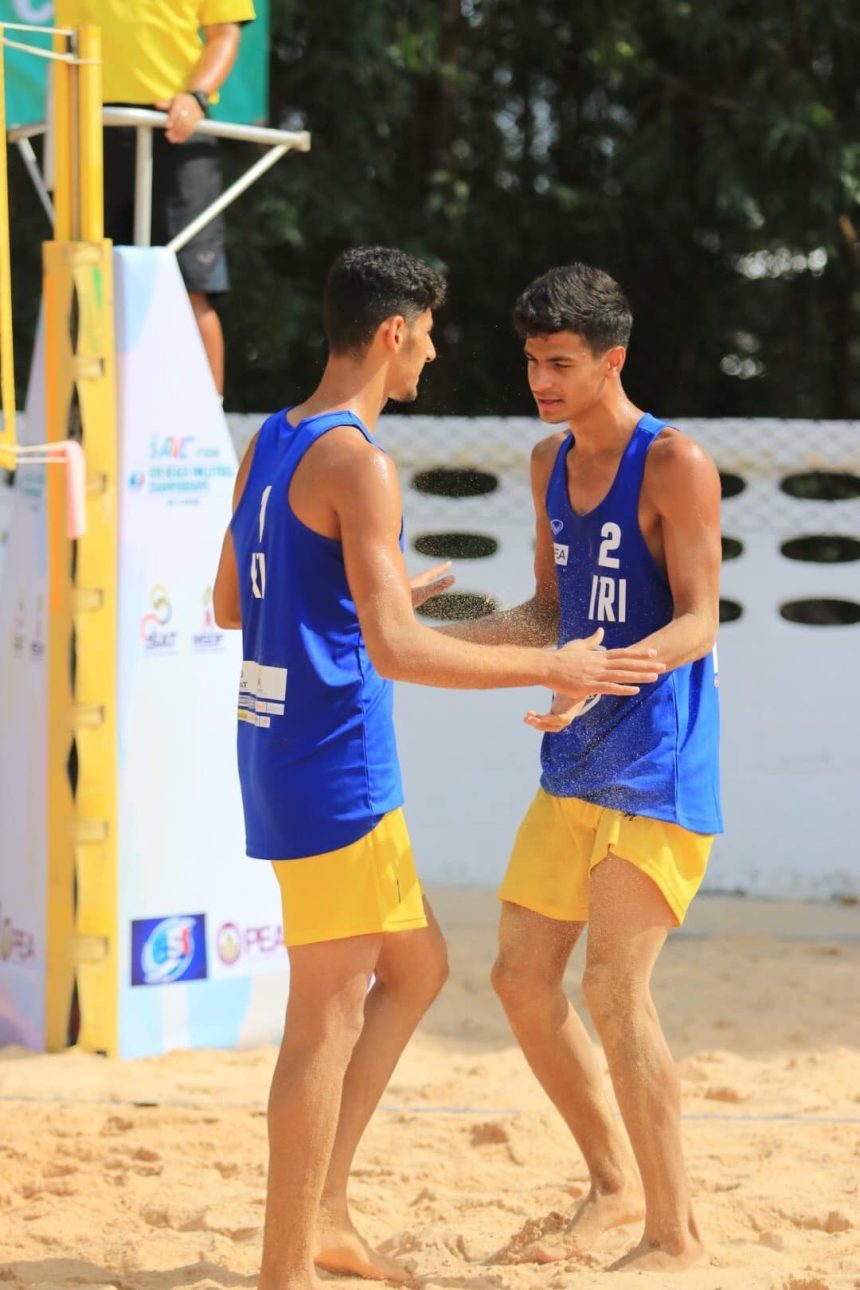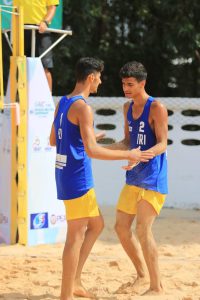 According to the competition rules and regulations, the top two teams from each pool will enter the round of 16 with the respective seedings – 1A as top seeds, 1B as second seeds, 1C third seeds, 1D fourth seeds, 1E fifth seeds and 1F sixth seeds. The four best third-ranked teams will also be advancing to the round of 16.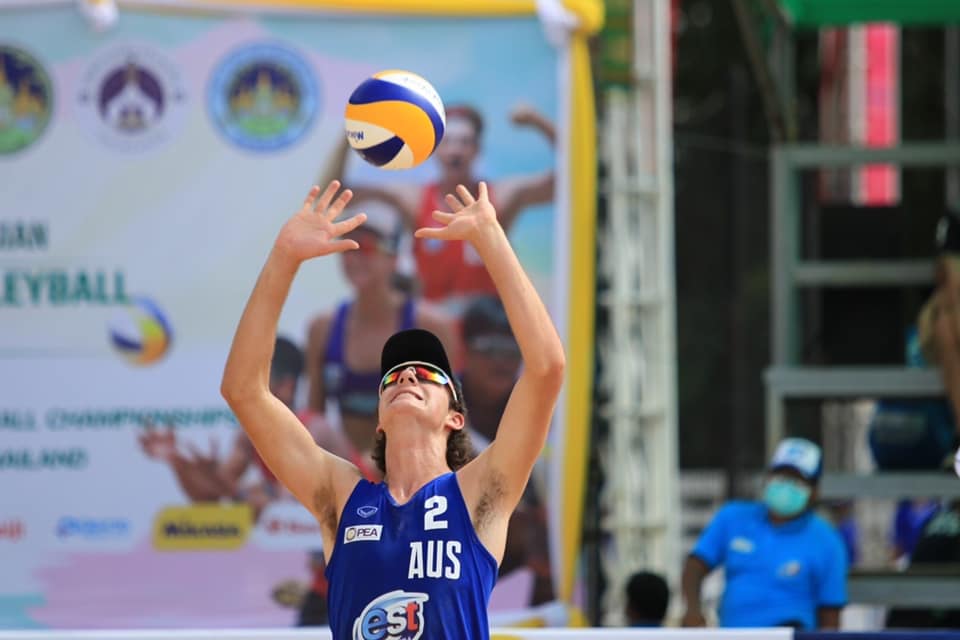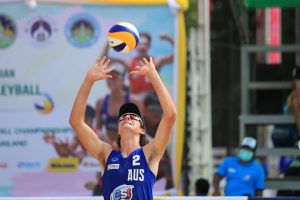 In the afternoon round of 16, the afore-mentioned three Thai pairings still kept hopes of the host nation alive as all of them picked things up to overcome their respective rivals to secure quarter-final berths.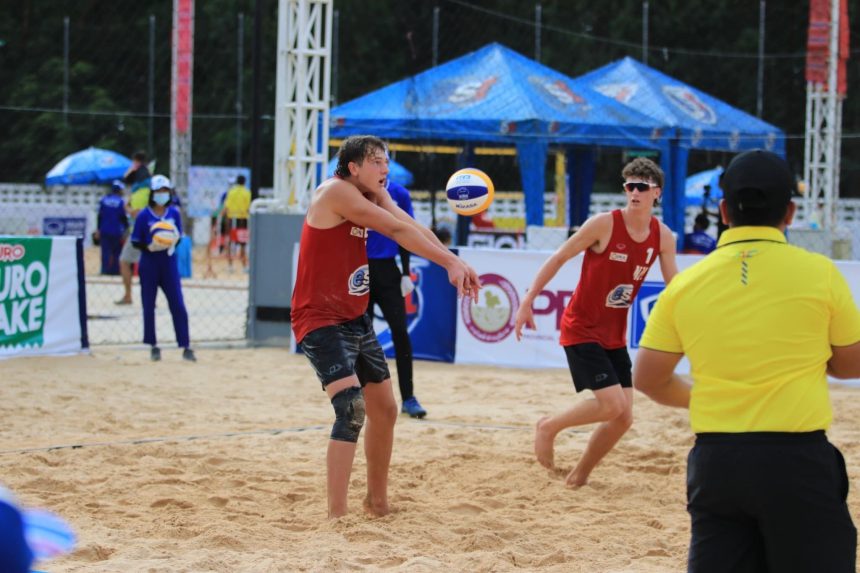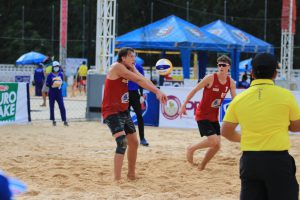 Metin and Nanthiphat pulled off a lop-sided 21-11, 21-7 win against Singaporeans Daniel Wei Shen Soon/Ranjiv Sasikumar just in 25 minutes in the round of 16, while Narakorn/Wichaya survived a scare of Zhang Tai/Hong Weiqiang to stun the strong Chinese duo in hard-fought three-set thriller 22-24, 23-21, 15-13 in gruelling 57 minutes and Phuthanet and Saiphirun routed Malaysians Looi Kaixu/Hong Jiayuan 21-17, 21-18.
Japanese Takeshi Miyamoto/Koki Miho, Chinese Song Jinyang/Sun Xinglong and Iranians Habib Naseri/Mahdi Alizadeh Koyakhi also made their mark on Friday with their similar sensational 2-0 wins against their respective rivals in the round of last 16.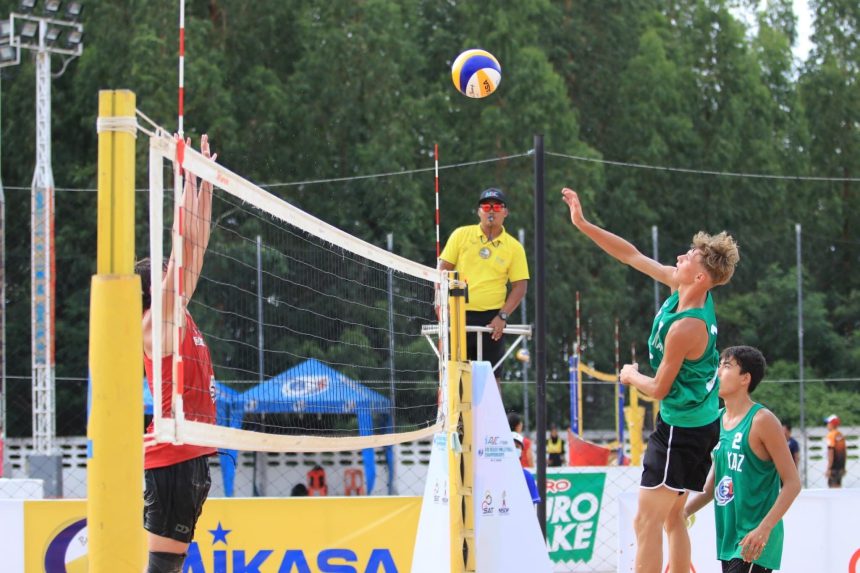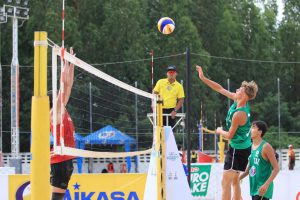 Two Kazakh pairings, Ivailo Todorov/Klim Ryukhov and Miras Assylbek/Daniil Zhigalov, booked their tickets in the quarterfinals following their exceptional wins on Friday, with the former surprising Iranians Nima Ormagei/Mohammad Esmaeil Naghipour 21-19, 21-13 and the latter coming from behind to beat Kiwis Charlie Dalton/Juraj Krajci 12-21, 21-19, 15-13 in exhausting 48 minutes.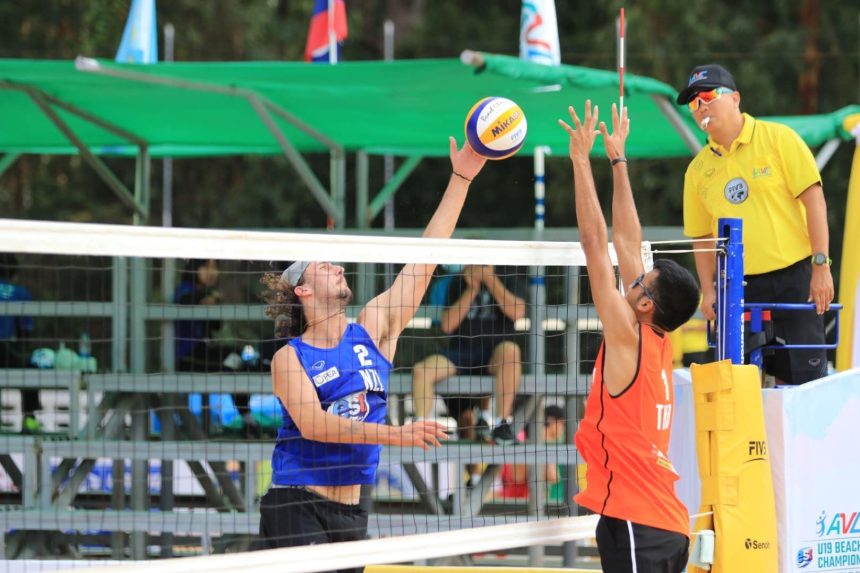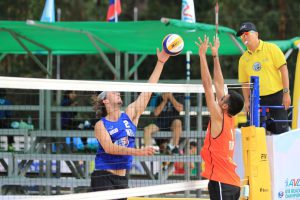 In the Saturday's quarterfinals, Narakorn/Wichaya will challenge Phuthanet/Saiphirun in the all-Thais battle, Thailand's Metin/Nanthiphat go up against Kazakhs Todorov/Ryukhov, Iranians Habib/Mahdi take on Kazakhs Assylbek/Zhigalov and Japanese Kurosawa/Ryujin have a face off with Chinese Song Jinyang/Sun Xinglong.
The four winners will make the cut for the do-or-die semifinals later on the same day.
MEN'S RESULTS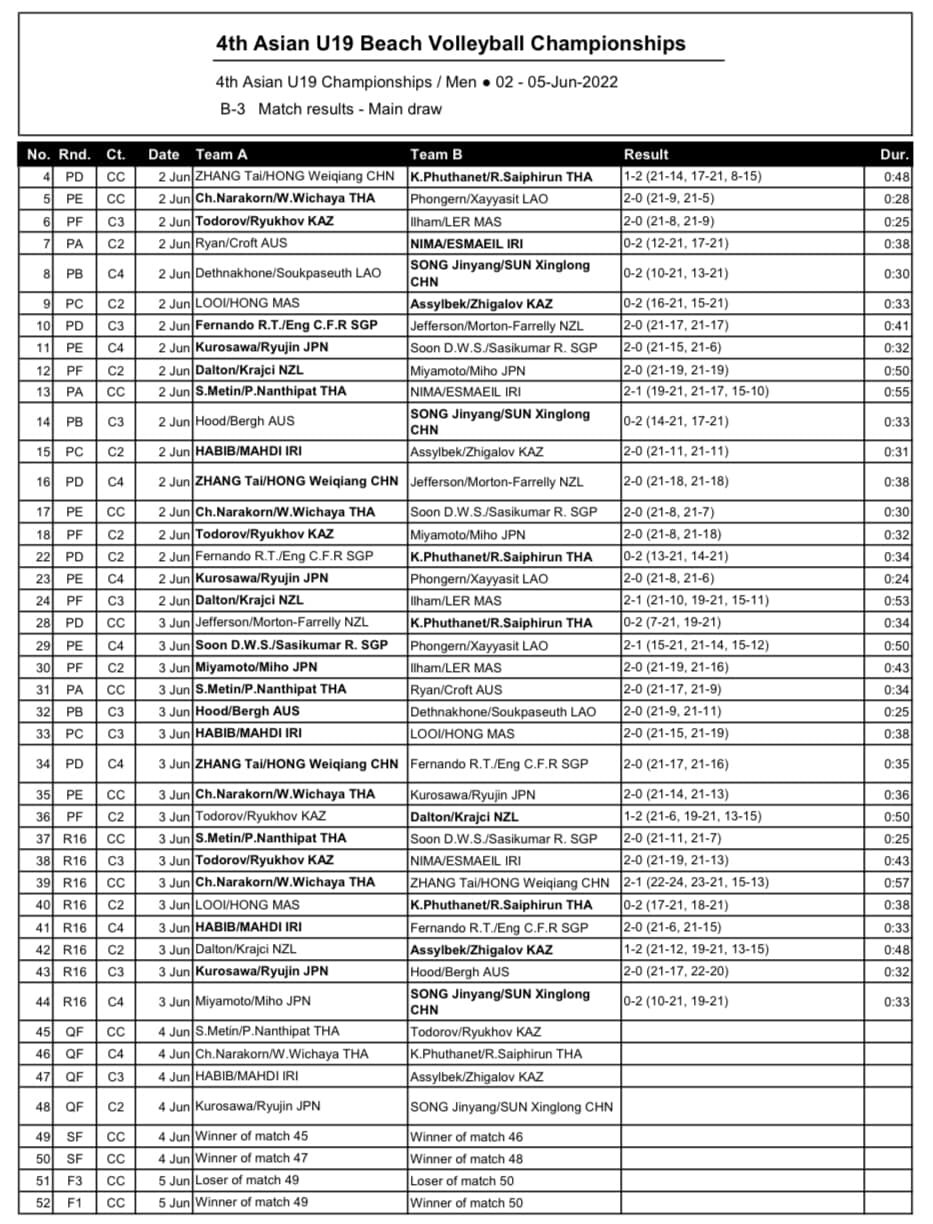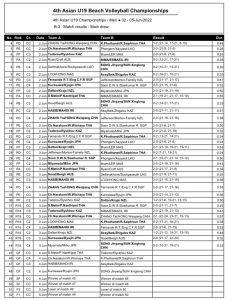 MEN'S POOLS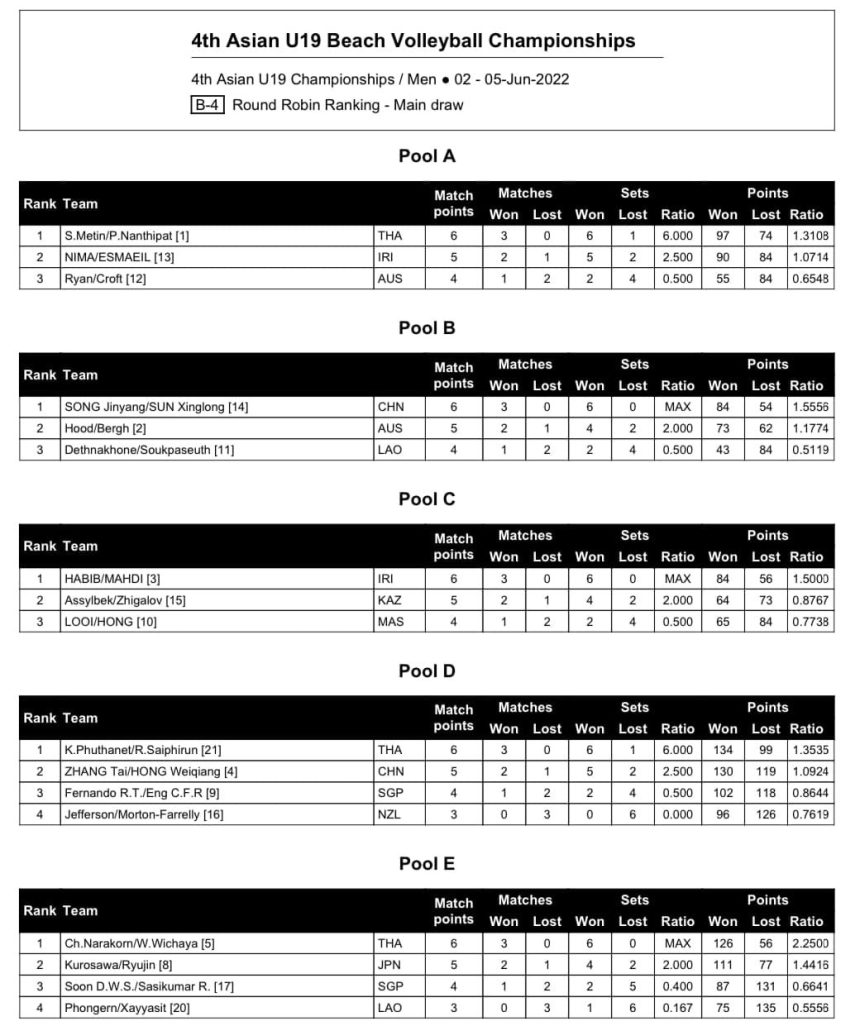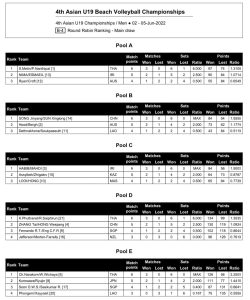 Meanwhile, in the women's event, Thailand's top seeds Patchraporn Seehawong/Jidapa Bunongkhun, Chinese second seeds Li Han/Yao Xin and Thai third seeds Salinda Mungkhon/Samitta Simarongnam continue their unbeaten streaks in the four-day competition without losing a single set in their pool round-robin preliminaries.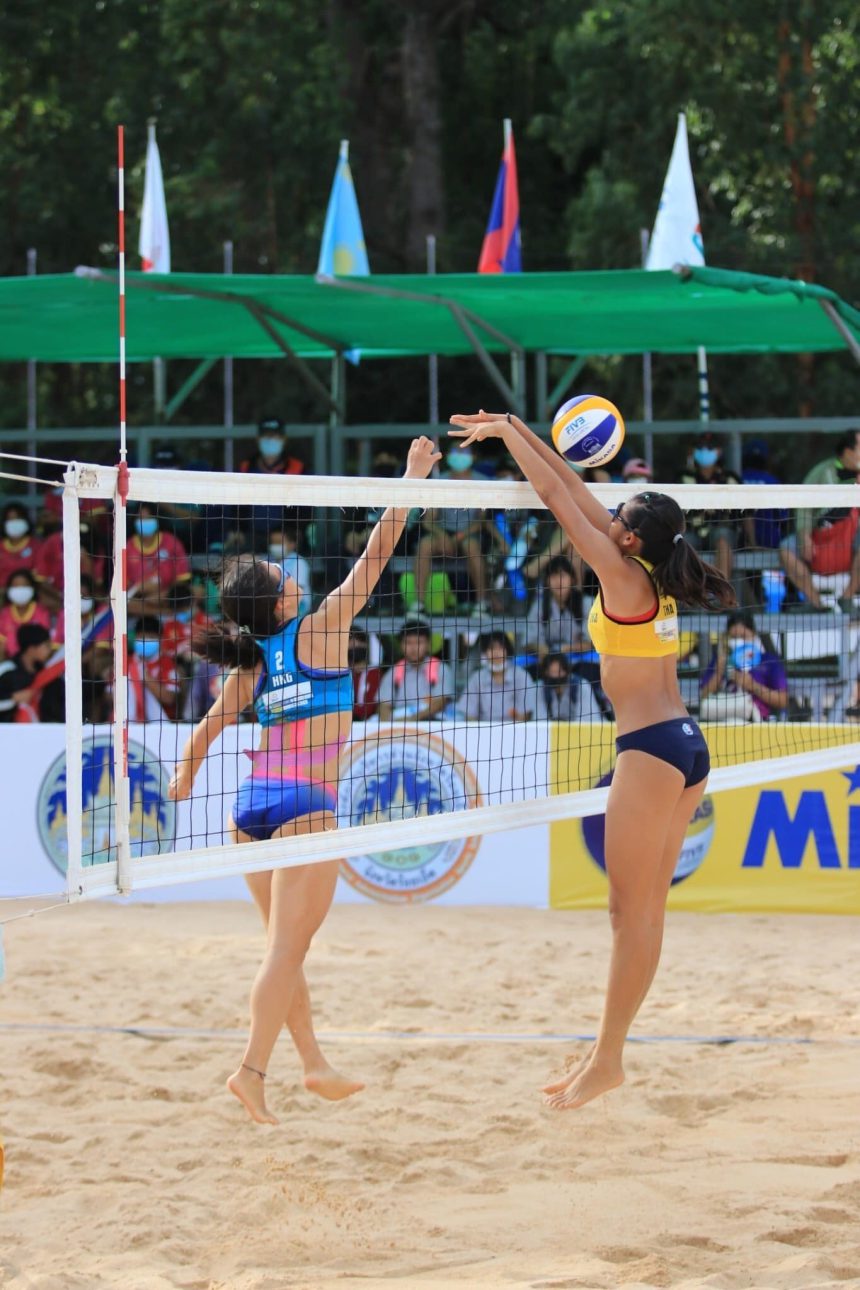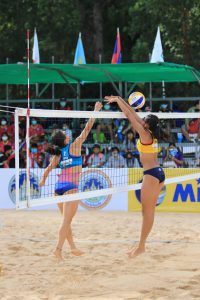 Patcharaporn and Jidapa, who claimed bronze at the previous U19 edition last year in Nakhon Pathom and also fourth place at the last year's Asian U21 Championships at the same venue, netted their three wins in succession on Friday following a scintillating 21-11, 21-18 triumph over Hong Kong China's Leung Yusze/Ng Kiwing in Pool A.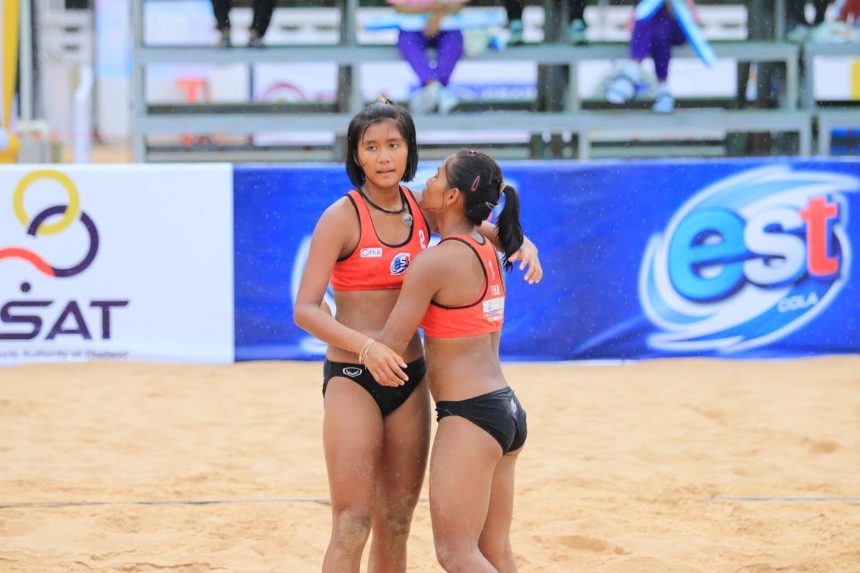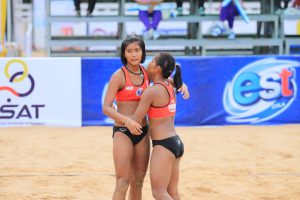 In Pool B, Chinese Li Han/Yao Xin also rode the crest of confidence after their third comfortable 21-13, 21-8 win against Singaporeans Ang Huiying/Tan Kay Gene in the top-flight championships.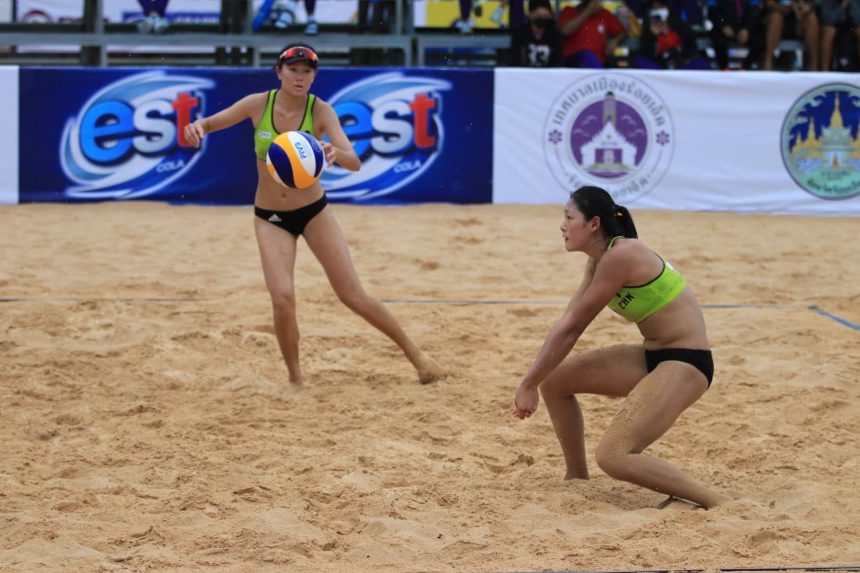 Thailand's Salinda/Samitta handed Vietnamese Mai Hong Hanh/Dinh Thi My Nga the bitter 21-9, 21-13 loss in Pool C, while another Thai pairing, Suchinna Choemphun/Somruedee Koedkaew, pulled off a stunning 21-16, 13-21, 20-18 win against Australians Stafanie Fejes/Cassandra Dodd in Pool D.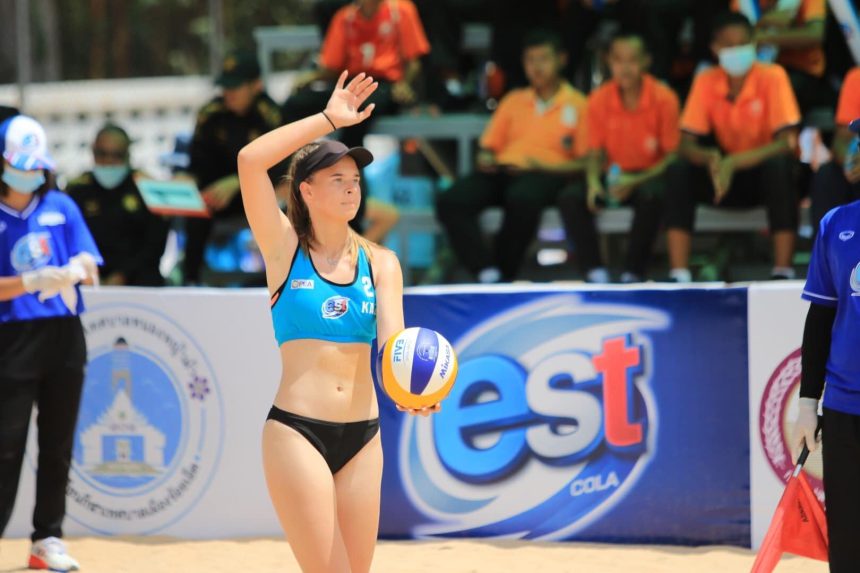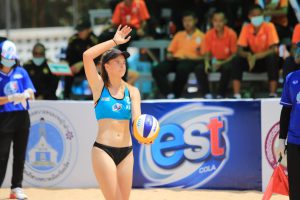 The 17-year-old Fejes is looking to defend her Asian Women's U19 Championships crown, which she won with Alisha Stevens in July last year in Nakhon Pathom, along with the U21 title in the same year.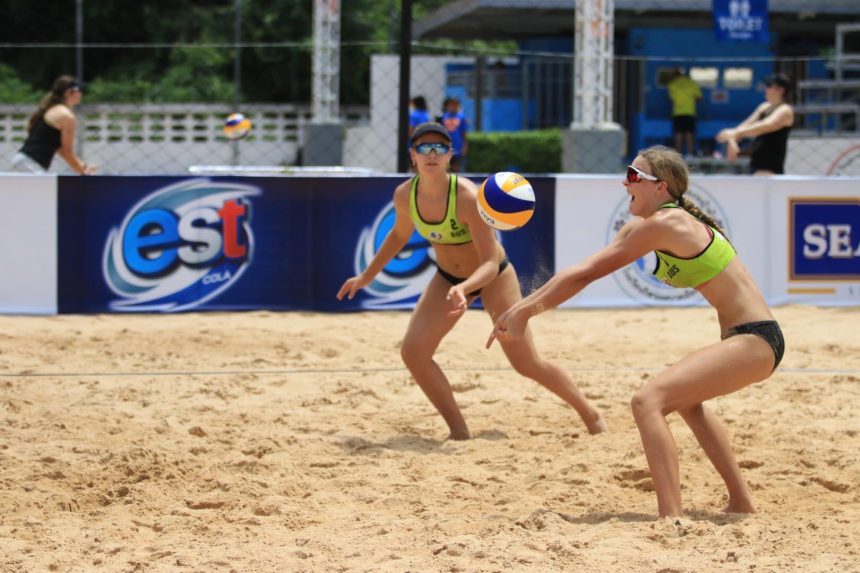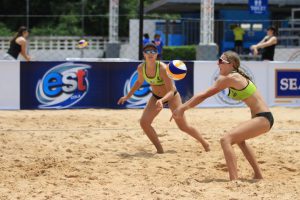 Pool plays continue on Saturday, followed by the afternoon quarterfinals, where only top two teams from each pool will be advancing.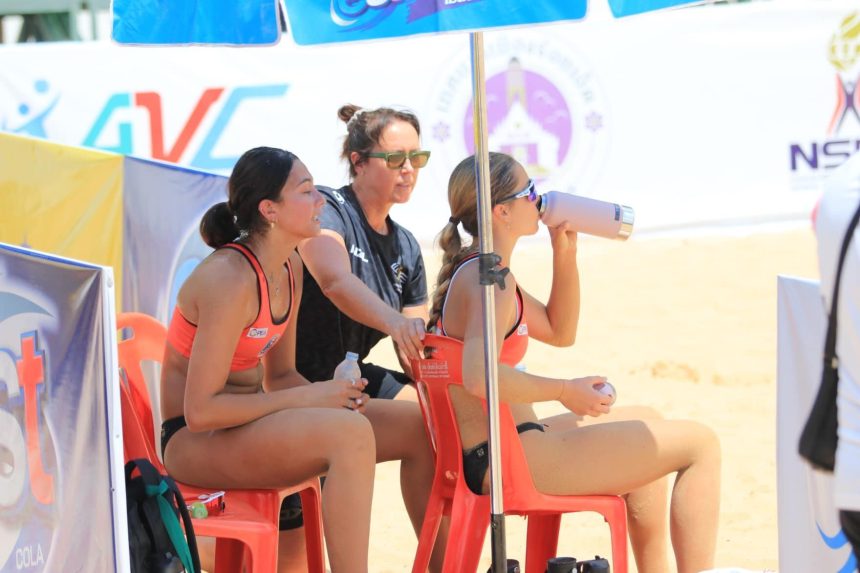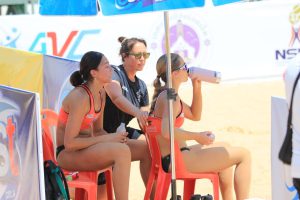 Top teams from Pool A, B, C and D will be top seeds, second seeds, third seeds and fourth seeds respectively, while the second-ranked teams of each pool will be drawn to fifth- to eighth seeds.
WOMEN'S RESULTS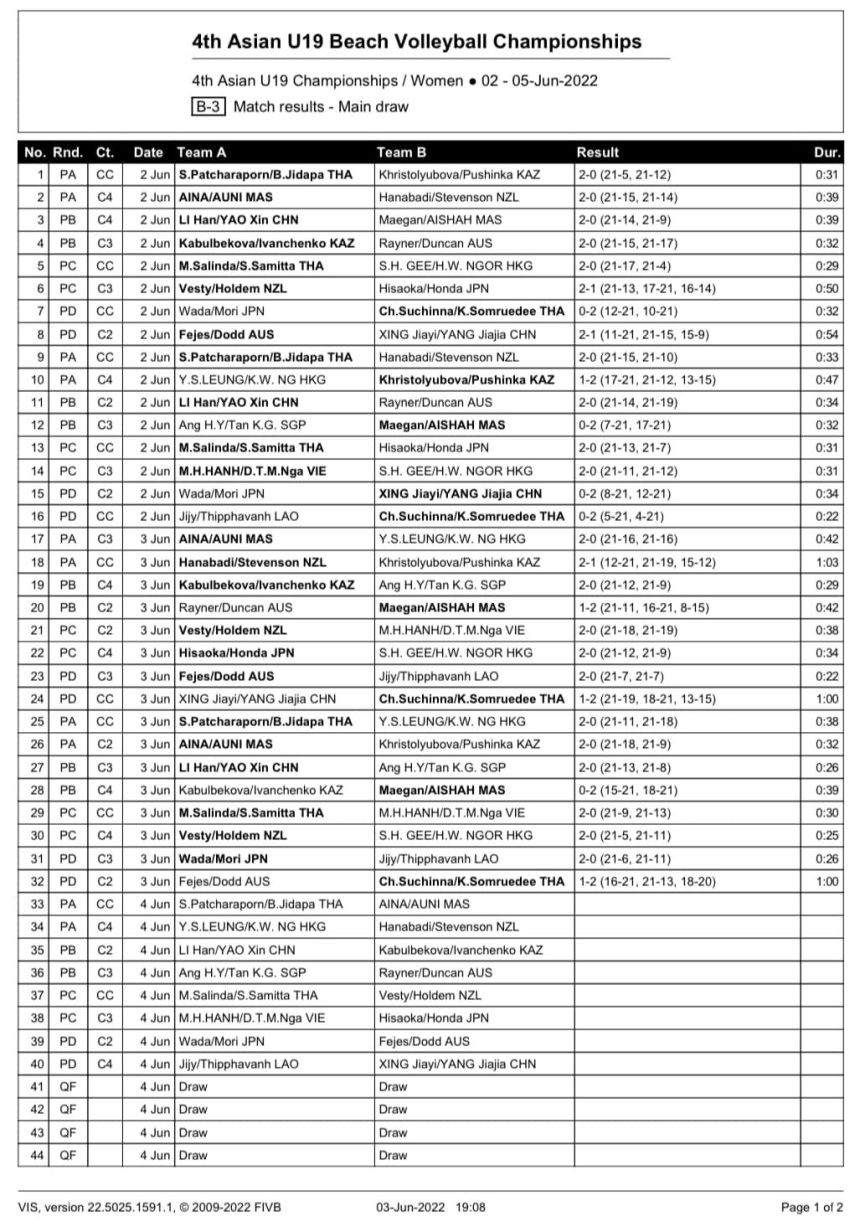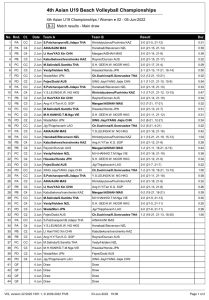 WOMEN'S POOLS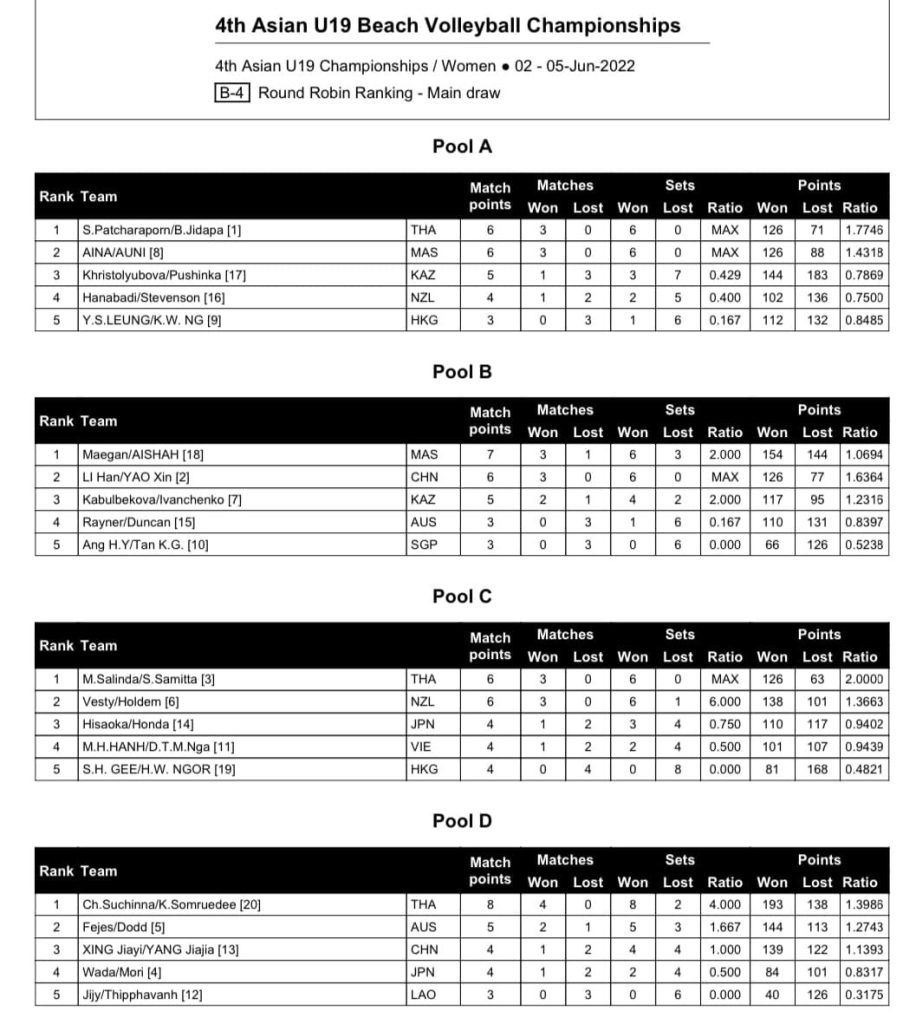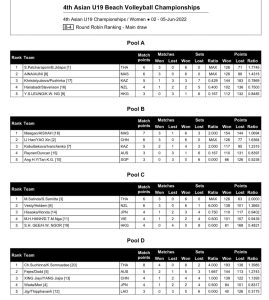 The double-gender competition continues through Sunday, the final day of the championships. Top five teams from each gender will represent Asia in the FIVB Beach Volleyball U19 World Championships in Dikili of Izmir, Turkey from September 14 to 18, 2022.
MATCH SCHEDULE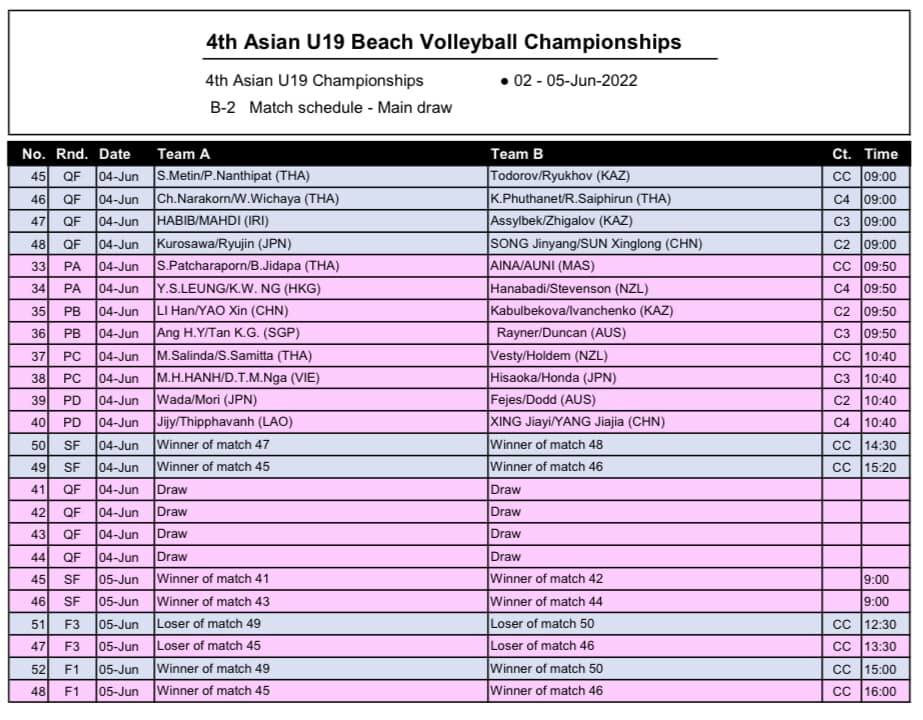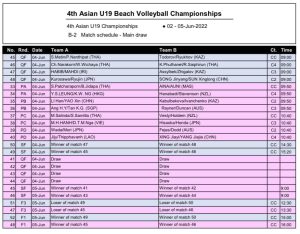 WOMEN'S DRAW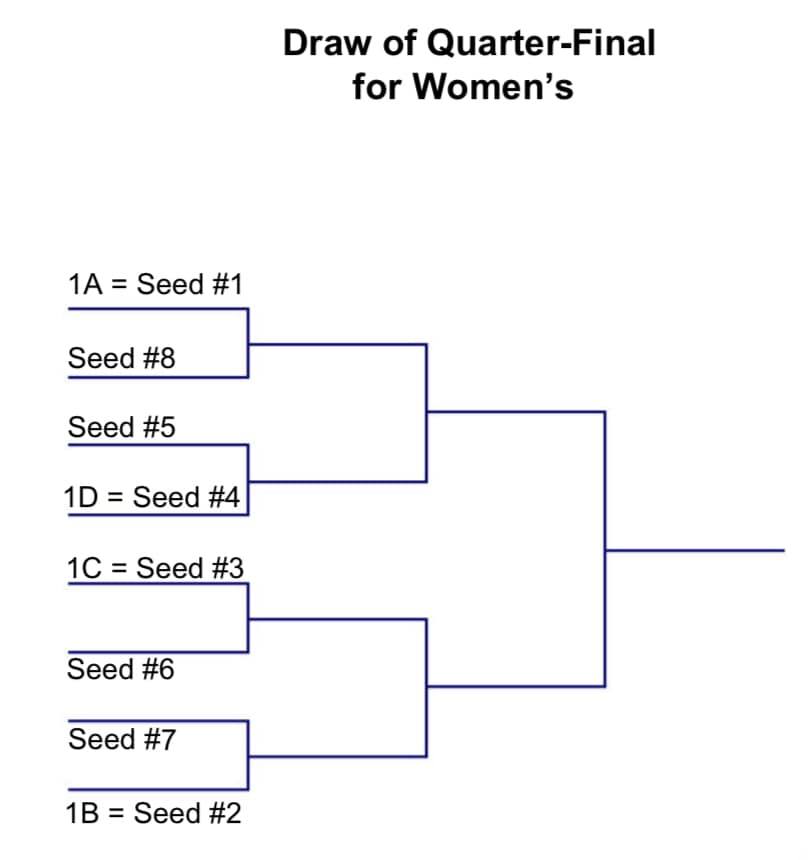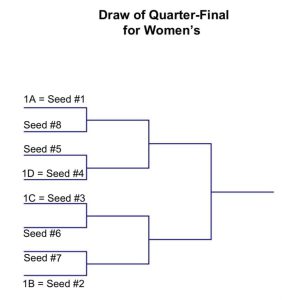 Related links of AVC
AVC Website: click www.asianvolleyball.net
AVC Facebook: click www.Facebook.com/AsianVolleyballConfederation
AVC Twitter: click: www.twitter.com/AsianVolleyball
AVC Instagram: click: https://www.instagram.com/avcvolley/?hl=en
AVC Youtube: click: Asian Volleyball Confederation
AVC WeChat: Asian Volleyball Confederation