Sydney, Australia, March 9, 2019 – An exciting new discipline – 4×4 Beach Volleyball – was tested during the recent FIVB Beach Volleyball World Tour 3-star event in Sydney.
The 4×4 beach volleyball adapts the rules of the two-a-side beach volleyball discipline with changes in the scoring system, team composition, service order, and the addition of substitution and coaching as its general principles.
This discipline, tested on the occasion of the Sydney 3-star event at Manly Beach, was well received by the athletes and spectators. Pitching teams of four with the added dimension of team tactics made this a promising, exciting and fast-paced game.
Participants from the Sydney 3-star, including Maximilian Guehrer, Marcus Ferguson, Timothy Dickson, Quentin Metral, Yves Haussenuer, Maxi Trummer, Arnaud Gauthier-Rat, Zachery Schubert and Gabriel Kissling joined the test match for the men as players and coaches, while Alise Lece, Anastasija Kravcenoka, Michaela Vorlova, Miller Pata and Sherysyn Toko played in the test match for women.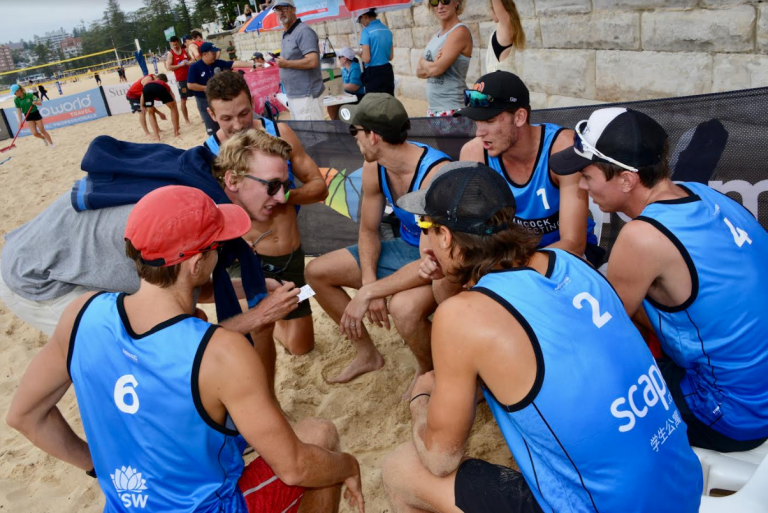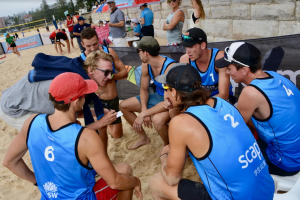 It was really exciting," French player Gauthier-Rat said. "We had a 4v4 match against the Aussies and it was different from the regular beach volleyball game. In France we play 3×3 and this is the first time I have played the 4×4 game. It has a lot of physical interaction at the net. It's different – sometimes you have three blockers. It has a lot of covers and blocks."
"I love the speed of the game and its competitiveness," said Australian player Ferguson. "I love the energy with more than your partner on court – more players in terms of energy. The speed and the options you get to have is exciting, making each team think harder and the tactical awareness of it is difficult."
The players and coaches gave their recommendations on how to improve the rules as well how they look forward to playing competitively.
"The 4×4 beach volleyball is very good," Vanuatu's Miller Pata said. "In this discipline you communicate more with your teammates, so this develops communication when you play the two-a-side game."
"I would like to see Vanuatu play in 4×4 beach volleyball competition in the future," Toko said. "It's something different and gives more players a chance to be on the court."
The fresh and dynamic 4×4 beach volleyball is part of the sports programme of the inaugural edition of the ANOC World Beach Games which will take place on Mission Beach in the city of San Diego, California in the United States from October 10-14.
Related links of AVC:
AVC Website: www.asianvolleyball.net
AVC Facebook: www.Facebook.com/AsianVolleyballConfederation
AVC Twitter: https://twitter.com/avcvolley
AVC Instagram: https://www.instagram.com/avcvolley/?hl=en
AVC Youtube: Asian Volleyball Confederation
AVC WeChat: Asian Volleyball Confederation