Jana Kulan of Azerbaijan continues to play a key role for the Toray Arrows
Tokyo, Japan, December 8, 2020 – Toray Arrows swept their two matches over the weekend against the PFU Blue Cats 3-0 (Saturday) and Hitachi Rivale 3-1 (Sunday) to remain perfect at 13-0 for the season in the Japanese V1 Women's League.
Against PFU, Toray's Jana Kulan led all scorers with 18 points (including two blocks and an ace) in the Arrows win. In Sunday's match, Hitachi took the first set against the Arrows 26-24. But Kulan led the fight for the Arrows with 28 points (one block and two aces) in the comeback victory.
JT Marvelous also swept their matches 3-0 against Hisamitsu Springs on Saturday and 3-0 against the Okayama Seagulls on Sunday.
The match against Hisamitsu had each set decided by two points. Annie Drews led the Marvelous with 24 in the win (including a block).
In their second match on Sunday against Okayama, the first set went to extra points, with the Marvelous taking it 34-32 on a Seagulls hitting error. After that JT dominated the rest of the match, 25-9 in the second set and 25-17 in the third. Drews again led all scorers with 21 points, all kills in the win.
NEC Red Rockets who play in Kawasaki hosted two home games over the weekend, which were also a promotional tie-in with Hello Kitty. Red Rockets players Sarina Koga and Nanami Hirose worked with Hello Kitty to create products for sale.
NEC swept their two matches 3-0 against Victorina Himeji on Friday and 3-1 against Denso Airybees on Saturday.
With 35 points, Shaina Joseph (one ace) led all scorers in a single match over the weekend in Saitama Ageo Medics' 3-1 win over Okayama Seagulls on Saturday. The Canadian is in her first season in Japan and in the post-match interview as the player of the match said: "I've been working really hard with my setter. We spend extra reps in practice and today I think we showed all the work we've been doing."
Hisamitsu Springs slowed Joseph down slightly on Sunday when she finished with 25 points (one block) in the 3-1 Springs win. Hisamitsu dominated at the net with 17 blocks to Saitama's 6 blocks. Foluke Akinradewo had five of the 17 for Hisamitsu in the win. The Hisamitsu win allowed them to leapfrog the Medics into sixth place.
Hitachi Rivale used its blocking on Saturday to sweep the Toyota Auto Body Queenseis 3-0. Hannah Tapp had five of Rivale's 12 blocks, which were crucial in Hitachi's win.
Victorina Himeji's 3-1 win over Kurobe Aqua Fairies took them out of last place. Akiho Matsumoto and Riho Sadakane for Victorina drove the offense with 26 (one block and three aces) and 21 respectively in the win.
Kurobe's weekend did not improve on Sunday with a 3-1 loss to the Denso Airybees. In a battle of Americans, Denso's Kathryn Plummer with 32 (four blocks and an ace) and Kurobe's Simone Lee with 31 (five blocks and an ace) essentially cancelled each other out. However, the Airybees's Rei Kudo could not be stopped with 18 (two blocks and an ace) in the Denso win.
This past weekend's matches were the last ones for the 2020 calendar year. Play will restart for the V1 Women's League on January 9, 2021.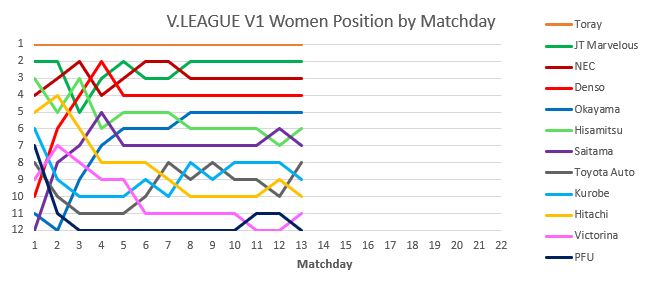 Match results for December 4, 2020
NEC Red Rockets – Victorina Himeji 3-0 (25-18, 28-26, 25-21)
Match results for December 5, 2020
Toray Arrows – PFU Blue Cats 3-0 (25-16, 25-23, 25-18)
NEC Red Rockets – Denso Airybees 3-1 (16-25, 25-18, 25-15, 25-17)
JT Marvelous – Hisamitsu Springs 3-0 (27-25, 25-23, 25-23)
Hitachi Rivale – Toyota Auto Body Queenseis 3-0 (25-20, 25-19, 25-19)
Victorina Himeji – Kurobe Aqua Fairies 3-1 (23-25, 25-16, 25-11, 26-24)
Saitama Ageo Medics – Okayama Seagulls 3-1 (26-24, 25-21, 25-22, 25-20)
Match results for December 6, 2020
Toyota Auto Body Queenseis – PFU Blue Cats 3-0 (25-22, 25-12, 25-21)
Denso Airybees – Kurobe Aqua Fairies 3-1 (25-20, 23-25, 25-23, 25-18)
Hisamitsu Springs – Saitama Ageo Medics 3-1 (25-22, 21-25, 25-19, 25-20)
Toray Arrows – Hitachi Rivale 3-1 (24-26, 25-15, 25-22, 25-14)
JT Marvelous – Okayama Seagulls 3-0 (34-32, 25-9, 25-17)
Related links of AVC
AVC Website: click www.asianvolleyball.net
AVC Facebook: click www.Facebook.com/AsianVolleyballConfederation
AVC Twitter: click: https://twitter.com/avcvolley
AVC Instagram: click: https://www.instagram.com/avcvolley/?hl=en
AVC Youtube: click: Asian Volleyball Confederation
AVC WeChat: Asian Volleyball Confederation