Taipei, Chinese Taipei, April 20, 2019 – Ace spiker Vinith Jerome scored a match-high 19 points as India's Chennai Spartans stunned Qatar's Al-Rayyan Club with a terrific comeback 3-2 (22-25 25-20 25-19 14-25 15-13) win in their last Pool C encounter of the 2019 Asian Men's Club Volleyball Championship at the University of Taipei (Tianmu) Gymnasium on Saturday.
Vinith Jerome's 19 points came from all his powerful attacks, with Rai Ashwal adding 15 points from 11 kills, 3 blocks and one ace. Marco Vukasinovic chipped in with 21 points for Al-Rayyan, all from his attack hits. Birama Faye had 9 points from solid block, while Milos Stevanovic had 4 aces.
Qatar's Al-Rayyan Club have already secured their place in the round of top eight teams following their two consecutive wins over Thailand's Est Cola and Kazakhstan's TNC Kazchrome VC, while India's Chennai Spartans had a 1-1 win/loss record and needed a must-win match against the Qataris and at the same time badly needed the Kazakh side to go down to the Thais in order that the indians would emerge as the second team in this Pool C to join the Qataris in the top eight.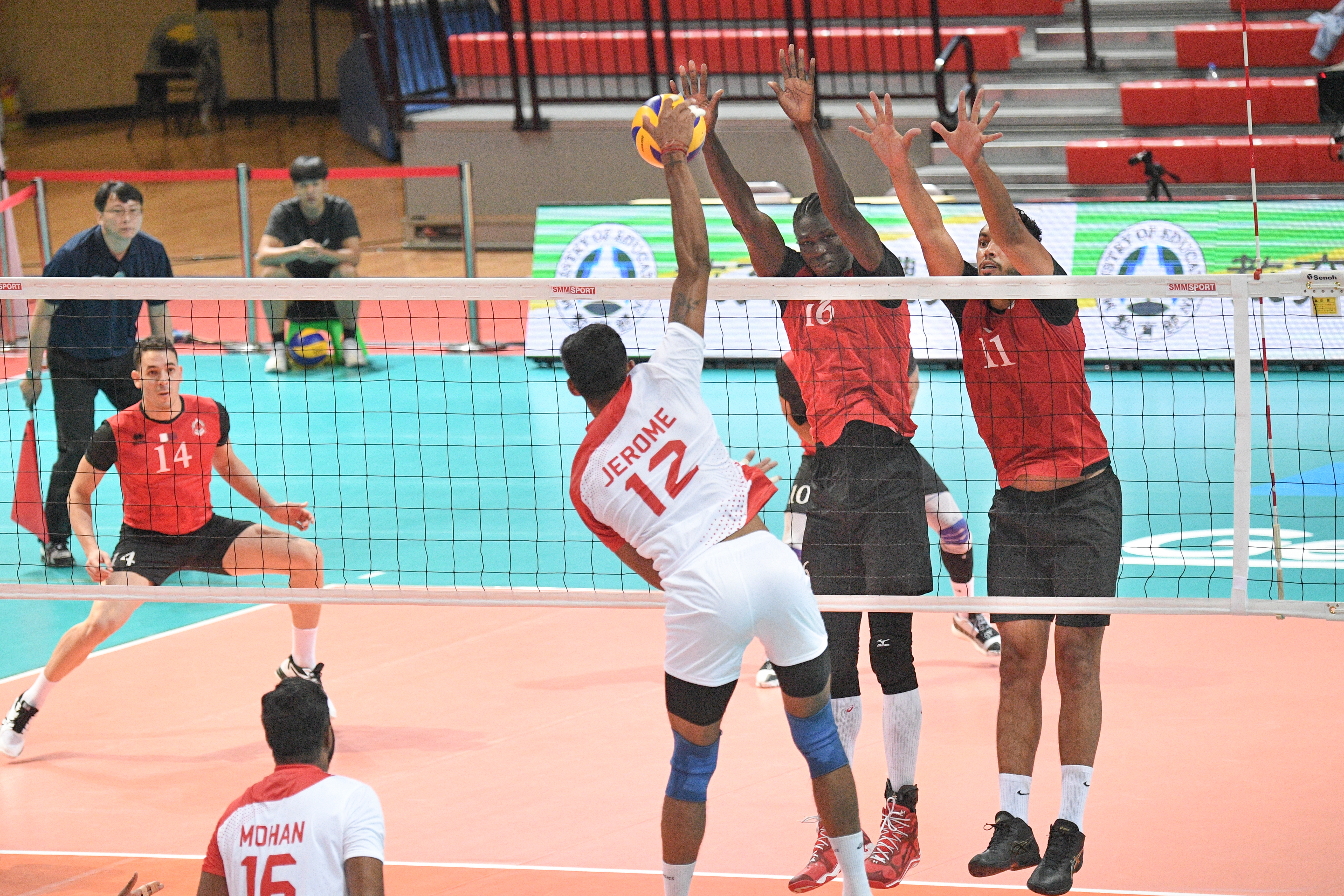 Al-Rayyan, spearheaded by strongly-built and powerful Kamil Rychlicki from Luxembourg and hard-attacking Youssef Oughlaf, opened up aggressively in a tough match against Chennai Spartans to initially lead 21-17. The Qataris continued their superb form to widen the gap to 23-19 before the Indians challenged seriously to score two points in a row.
A spike from Raja Naveen went wide to help the Qataris win a crucial point for a 24-21 lead, needing only one more point to win the set. Vinith Jerome attacked Belal Abunabot with a fierce spike and it bounced off the court to help the Indian side come near at 22-24, but a serve from Vinith a moment later went into the net, resulting in the Qataris' 25-22 win.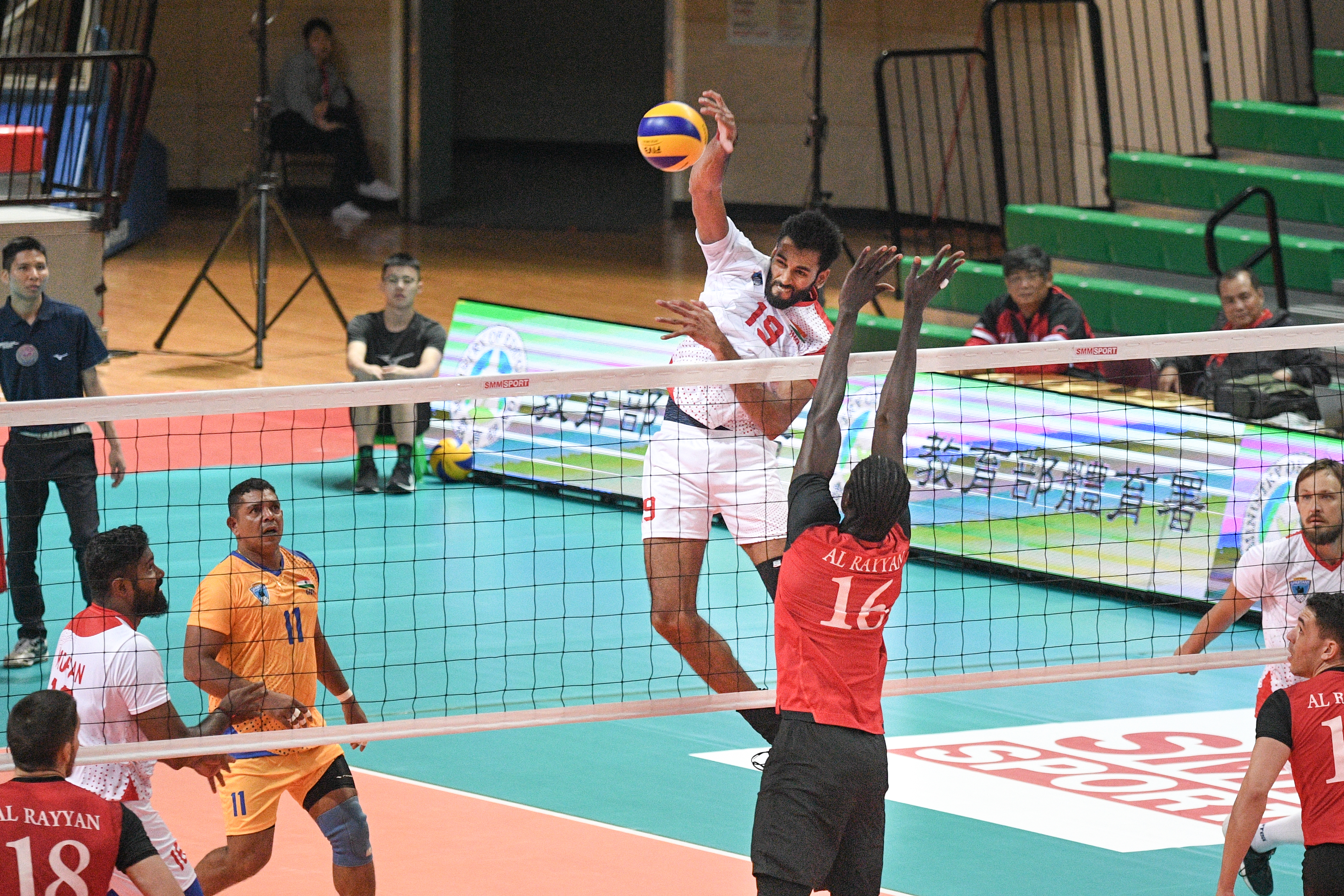 Conceding one set, Chennai Spartans regrouped in the second set, with an aim of turning the table on the Qataris. Jerome and Latvian Sorokins Ruslans excelled in attack as the duo, assisted by Mohan Ukkrapandian's well-placed serves, remained dangerous weapons the rivals to be reckoned with. The Indians led from the start to finish for the hard-earned 25-20 win in the set.
A set win boosted the Indians' confidence as Chennai Spartans continued their exceptional form after that. Back-to-back quickfire spikes from Jerome gave the Indians some hopes of winning the third set. Chennai Spartans unleashed a series of powerful attacks which baffled the oppositions to set an early pace at 17-13 and went on their relentless attacks from that point to win the set 25-19.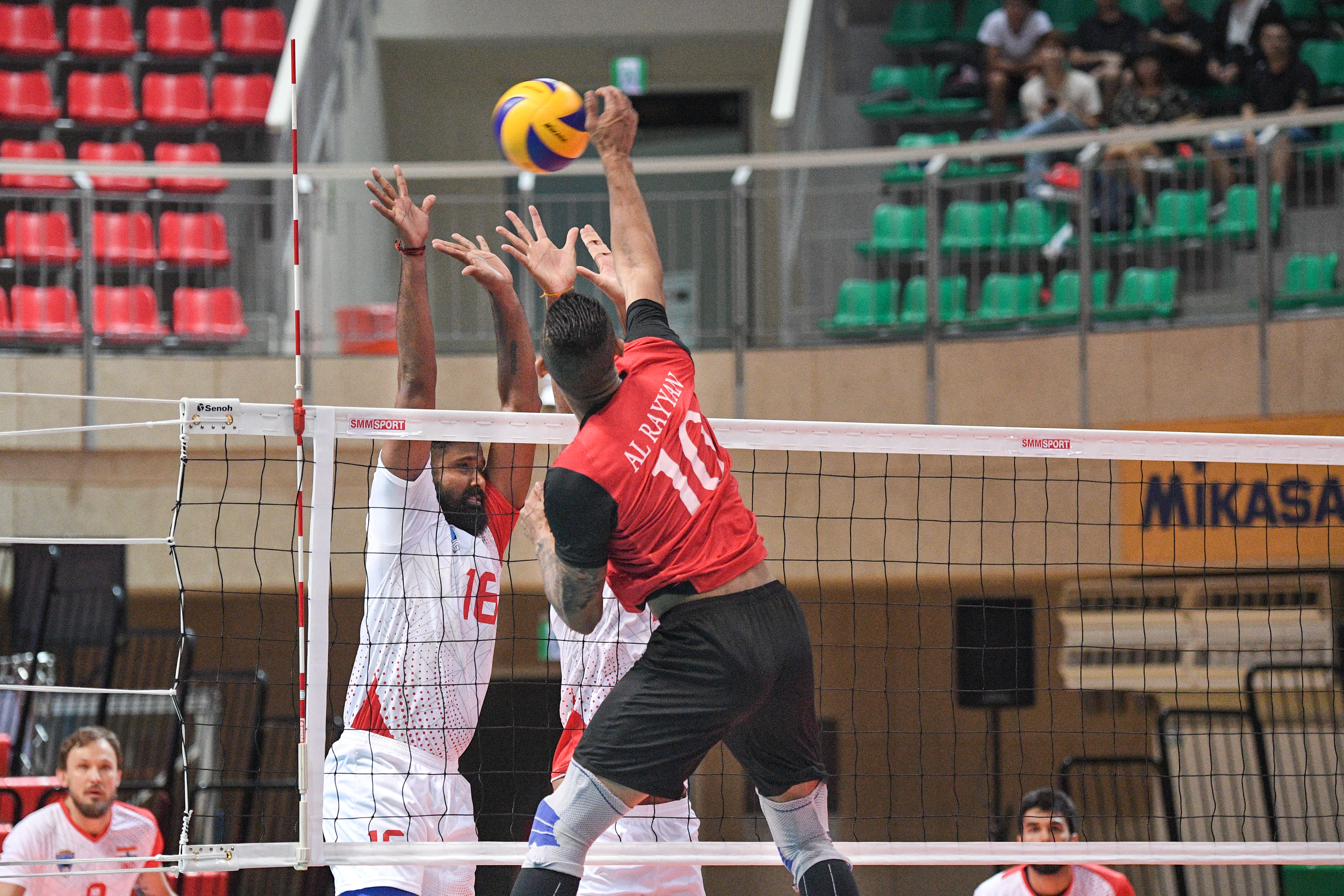 Going down 1-2, Al-Rayyan started the fourth set strongly. With Brazilian-born Marcus Costa and Youssef taking turns overpowering the blockers with fierce attacks, the Qataris took total control to eventually win the one-sided set 25-14.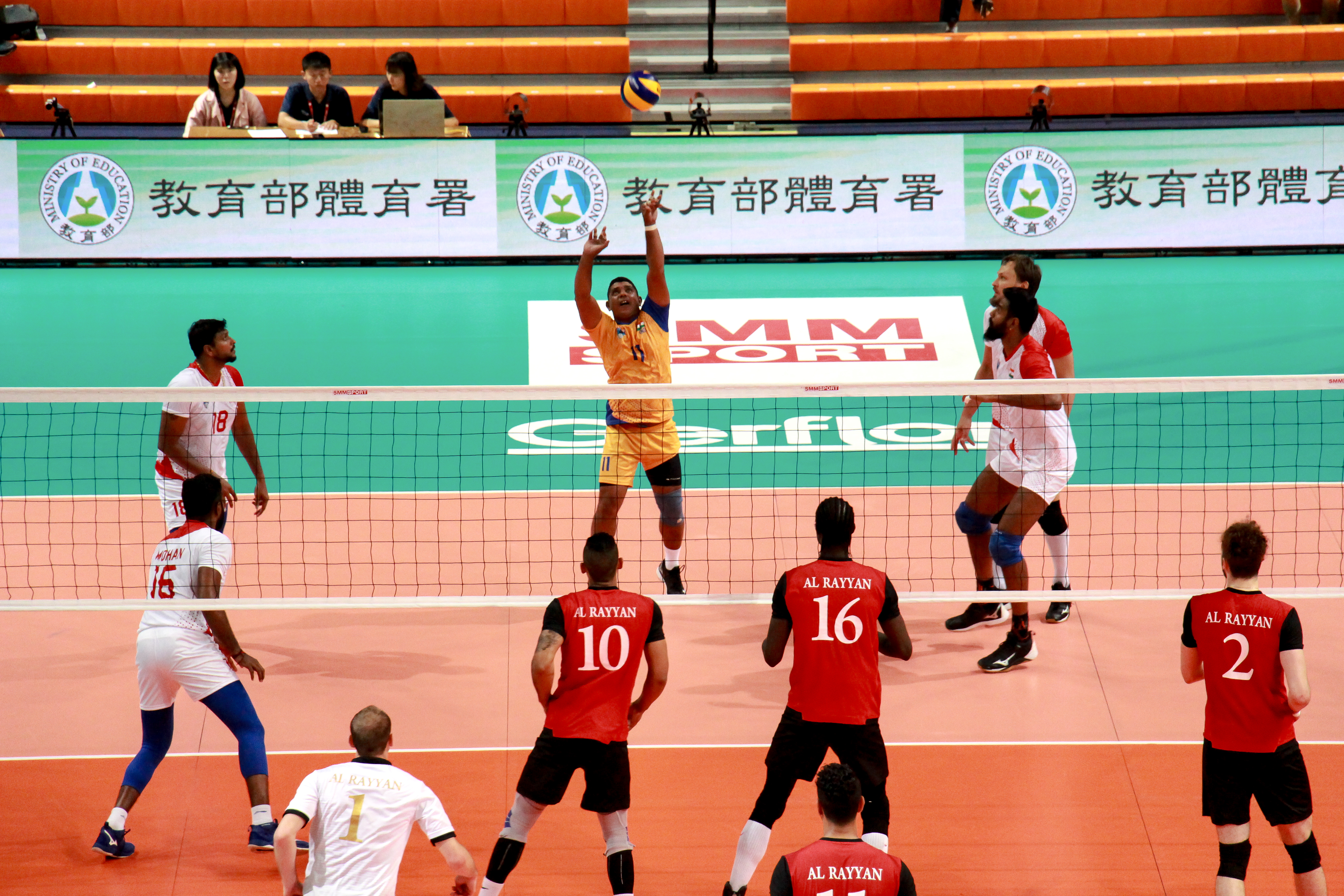 Both sides still played their best in the tie-breaker, but Chennai Spartans turned things around positively and played better defensively. As Al-Rayyan held their nerves to win two points in a row to reduce the gap to 13-14, GS Akhin smartly produced a mid-court drop for the Indians' 15-12 win in the deciding set and match.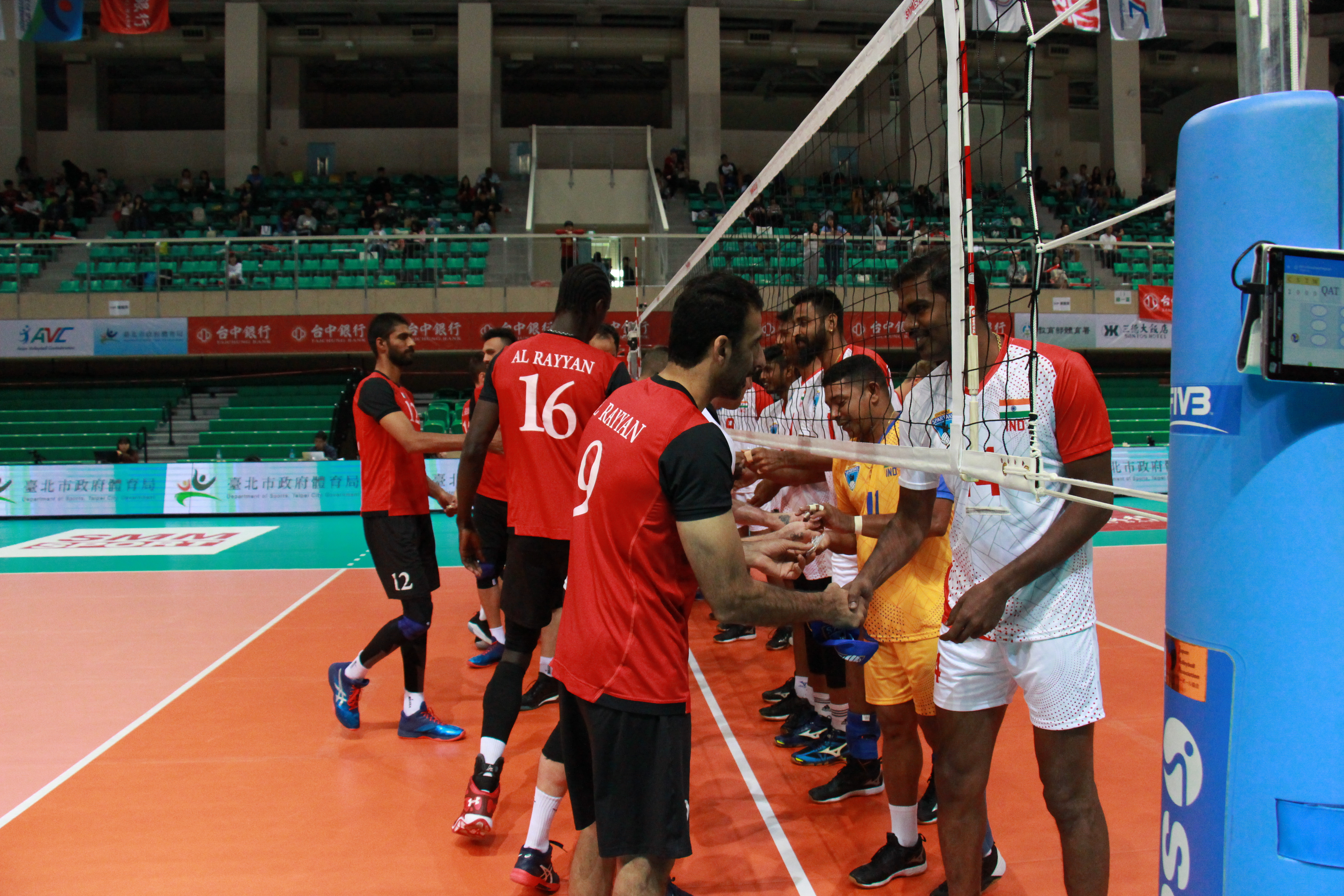 Chennai Spartans' head coach Dr M.H. Kumara said after the match, "As I said before, when we won, it's time to relax. I think mentality played an important role in our today's success. My players played well, except in the fourth set. I think we played today much better than the previous match against Est Cola from Thailand. We might play bad on the first day and then we improved on that to win the second day and the third day now can be a gift. I'm very satisfied with my players' performance. The second and third sets were wonderful for us as we came up with outstanding performance and only the fourth set disappointed us as we made too many mistakes. We have to maintain our consistency and mentality to play our next matches."
Related links of AVC:
AVC Website: www.asianvolleyball.net
AVC Facebook: www.Facebook.com/AsianVolleyballConfederation
AVC Twitter: https://twitter.com/avcvolley
AVC Instagram: https://www.instagram.com/avcvolley/?hl=en
AVC Youtube: Asian Volleyball Confederation
AVC WeChat: Asian Volleyball Confederation