Plovdiv, Bulgaria, June 29, 2019 – After a 2018 season, not the best for them in terms of results from world-level competitions, in 2019, Iran stormed back as one of the best teams in the men's FIVB Volleyball Nations League so far. With star players, such as middle blocker Seyed Mohammad Mousavi Eraghi, leading the way, they are placed second in the current standings on an 11-2 win-loss record.
After the team's victory over Serbia at the Kolodruma in Plovdiv, with which Iran officially booked their ticket to the Final Six, Seyed Mohammad Mousavi, the tournament's best blocker so far on an average of 0.55 stuffs per set, took time to speak to fivb.com and comment on Iran's success. The Asian squad may be considered VNL's pleasant surprise package by some, but the great results come as no surprise to the Iranians themselves.
"Yes, we expected it," 31-year-old Seyed confirmed. "We started our preparation in very good shape. We do well in every practice. And without injuries! Because of the many injuries of important players in the last two seasons we couldn't produce good results. But this year all the experienced players and all the young players, who joined the team, brought in high quality, so everything's perfect. I cannot say we knew beforehand that we would be first or second, but I was sure we would qualify among the first six teams. Experienced players, such as Saeid Marouf and Amir Ghafour, are in good shape and play very well. Some new players also joined the team and helped a lot. That's why our result has improved since last year."
Seyed is already looking forward to the finals in Chicago from July 10 through 14 with the hope of a podium finish.
"All six teams will be great, but we are looking for a medal. Every match will be important. I know it will be difficult, because we're all tired after playing all these games, but there is some time to take some rest and recover, so we can go to Chicago in a perfect shape to have a perfect performance and get a good result," said the 200-cm-tall athlete.
Within the last few years, Iran have evolved from a regional power to a world-level volleyball force to be reckoned with. They are currently placed eighth in the FIVB World Ranking. Seyed, who has been on the squad for more than 10 years now, has been an integral part of this incredible rise.
"Our federation has been working a lot with the youth and hiring good coaches to train them. More and more young people come to volleyball and, step by step, the sport is growing," he analyzed. "Some of the best coaches in the world also come to Iran to teach us how to win. 10 years ago we played well, but we did not have the knowledge and the confidence in the important moments to close a match with a victory. We had potential to be in the top 10, but we needed confidence to help us get the results. After some bad results in the last two years, this season we started with three wins in China and regained our confidence, which helped us continue winning."
The growing success of Iranian volleyball has been accompanied by the growing popularity of the sport in the western Asian country. Iran played host to two VNL pools over the previous two competition weekends and the feedback from the visiting teams about the atmosphere at the matches was overwhelmingly positive.
"The fans in Iran are number one in the world," stated the middle blocker. "I've played everywhere, but the Iranian spectators have no match – they are the best. And there are so many people who follow volleyball. When we're playing, maybe 40 million watch the game on TV. We are so lucky and this is an opportunity to thank them for following us and supporting us."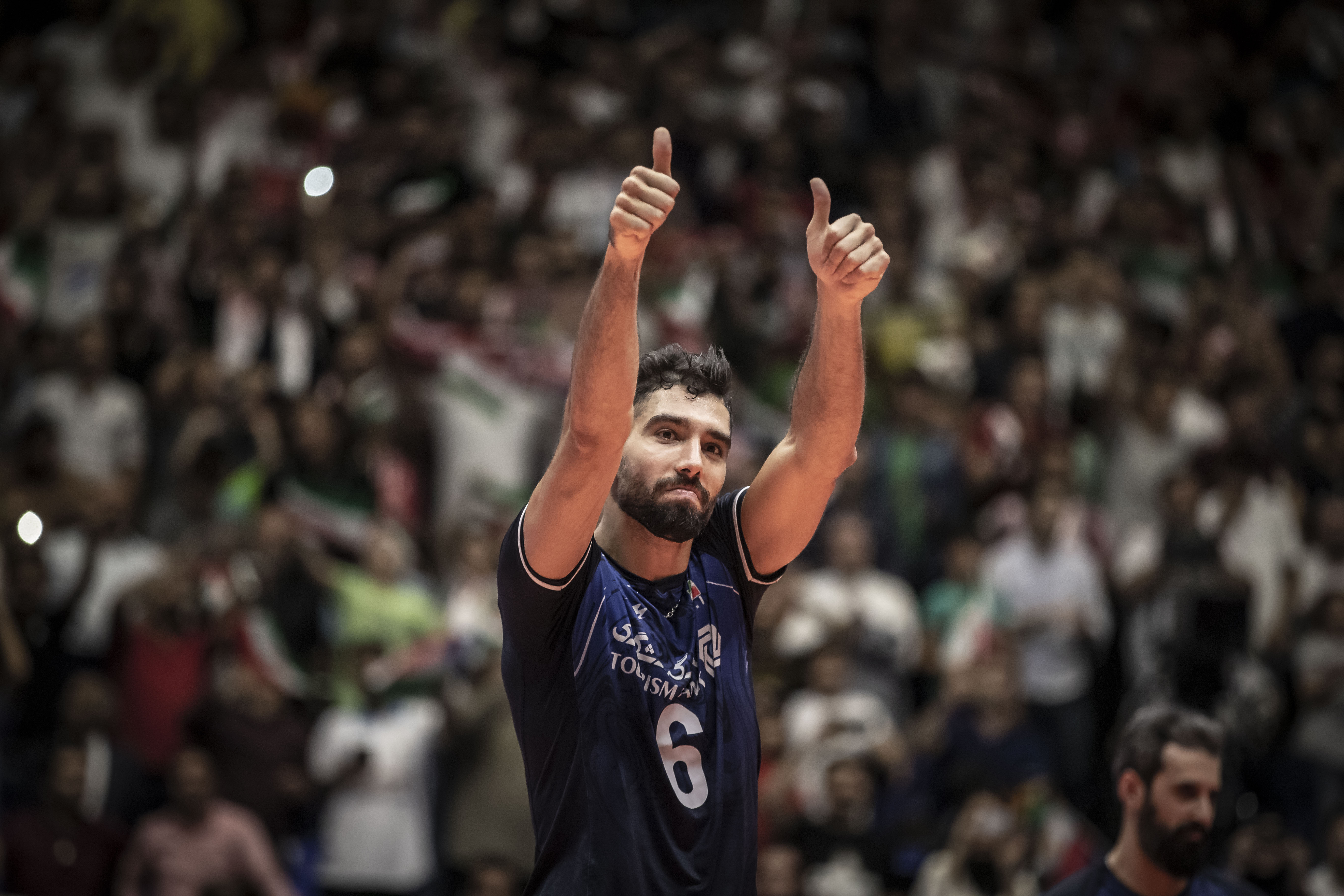 As part of this volleyball craze in Iran, Seyed, who was honoured on the Dream Team of the 2015 World Cup among many other individual awards, and his teammates from the national squad enjoy a truly iconic status in their country. Seyed himself has over one million followers on Instagram.
"We have to spend a lot of time in the privacy of our homes or in training, because it's not easy to go outside as people immediately come to talk to us, to take pictures and so on," said Seyed and went on to discuss the social media situation. "I started this experience five years ago. At the beginning it was so strange for me to get so many followers on Instagram and I put my mind to it. Now I am OK. I am just enjoying Instagram, without concentrating too much on it."
Staying humble, however, he refused to dream up an ideal team with himself as a member. He listed seven other volleyballers instead.
"This is so difficult, because there are so many good players – even just in Iran, let alone the whole world," he pointed out. "I think Marouf as setter, Robertlandy Simon and Srecko Lisinac as middle blockers, Ricardo Lucarelli and Osmany Juantorena as receivers, Maxim Mikhaylov as opposite and Alexey Verbov as libero."
Related links of AVC
AVC Website: click www.asianvolleyball.net
AVC Facebook: click www.Facebook.com/AsianVolleyballConfederation
AVC Twitter: click: https://twitter.com/avcvolley
AVC Instagram: click: https://www.instagram.com/avcvolley/?hl=en
AVC Youtube: click: Asian Volleyball Confederation
AVC WeChat: Asian Volleyball Confederation