Lausanne, Switzerland, August 13, 2019 – With eight men's and five women's beach volleyball qualifying events for the Tokyo 2020 Olympic Games remaining on the 2018-2019 international calendar, the provisional Olympic ranking list for the 2020 Summer Games continues to take shape.
With two men's and women's tournaments this week in Moscow (Russia) and Knokke-Heist (Belgium), the list of 2018-2019 Tokyo qualifying events continues through the FIVB Beach Volleyball World Tour Finals from September 4 to 8 in Rome as the international circuit returns to the Italian capital for the first time since 2013.
Other qualifying events remaining in the 2018-2019 FIVB World Tour schedule include stops in Rwanda (Rubavu, August 21-24, men & women), Latvia (Jurmala, August 21-25, men), China (Zhongwei, August 22-25, women), Oman (Salalah, August 24-27, men), France (Montpellier, August 27-31, men) and Norway (Oslo, August 28-September 1, men).
Qualifying for the Tokyo 2020 Olympic Games started on September 1, 2019 and concludes on June 14, 2020 with a maximum of two teams per country in each gender's 24-team field.
Following the Rome World Tour Finals, the next points-producing events will be next season, starting from October 1 to 4 in Iran at Bandar Torkaman for a men's only event.
The first women's and men's berths for the Tokyo 2020 Olympic Games were determined on July 6 and 7 in Germany when Melissa Humana-Paredes/Sarah Pavan of Canada and Viacheslav Krasilnikov/Oleg Stoyanovskiy of Russia topped the podiums at the 2019 FIVB Beach Volleyball World Championships in Hamburg and earned quota places for their respective National Federations (NFs)/National Olympic Committees (NOCs).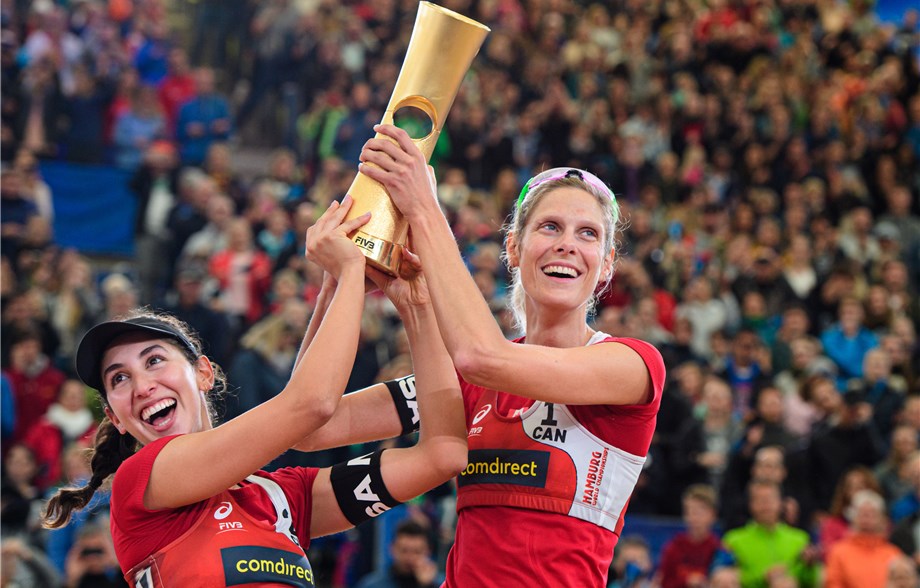 The next two spots per gender for the Tokyo 2020 Summer Games will be determined September 18-22 in China at an Olympic qualifying event at Haiyang where 16 men's and 16 women's pairs will be competing with one team per country.
With host Japan guaranteed a spot in both the men's and women's Tokyo competition as the host country, five additional berths in the 24-team Olympic programme per gender will be determined by the Continental Cup pathway in Africa, Asia, Europe, NORCECA and South America.
The final 15 Tokyo 2020 Summer Games berths per gender will be awarded from the FIVB Olympic ranking list that awards points from FIVB World Tour events, recognized Continental Tours Finals and the FIVB World Tour Finals in Rome. To be eligible to represent a NOC that has been allocated a quota place through the Olympic Qualification Tournament, the 2019 World Championships or the Olympic Ranking List of June 15, 2020, all athletes must have participated as an individual in a minimum of 12 of the following events: the Olympic Qualification Tournament; the World Championships; the World Tour Finals; FIVB World Tour 1*-5* events; recognised Continental Tours Finals, scheduled from September 1, 2018 until June 14, 2020.
Men – Currently, fifteen men's teams have satisfied the requirement of playing in 12 events, including Krasilnikov and Stoyanovskiy (8,060 points), who won the men's 2019 FIVB Beach Volleyball World Championships. Here are the teams (team, country, participations, points):
Anders Mol/Christian Sorum, Norway, 12, 9,960
Viacheslav Krasilnikov/Oleg Stoyanovskiy, Russia, 12, 8,060
Cherif Samba/Ahmed Tijan, Qatar, 13, 5,920
Martins Plavins/Edgars Tocs, Latvia, 12, 5,640
Sam Pedlow/Sam Schachter, Canada, 12, 5,620
Robin Seidl/Philipp Waller, Austria, 12, 4,240
Philipp Bergmann/Yannick Harms, Germany, 14, 4,100
Nils Ehlers/Lars Fluggen, Germany, 12, 4,100
Peng Gao/Yang Li, China, 14, 3,620
Cole Durant/Damien Schumann, Australia, 14, 3,520
Maciej Rudol/Jakub Szalankiewicz, Poland, 13, 3,140
Likejiang Ha/Jiaxin Wu, China, 15, 2,960
Murat Giginoglu/Volkan Gogtepe, Turkey, 12, 2,700
Maxim Sivolap/Artem Yarzutkin, Russia, 12, 2,520
Zhuoxin Li/Chaowei Zhou, China, 14, 1,930
Women – So far 22 women's teams have satisfied the requirement of playing in 12 events, including world champions Humana-Paredes and Pavan (8,240 points). Here are the teams that have satisfied the 12-event requirement (rank, team, country, participations, points):
Rebecca Cavalcanti/Ana Patricia Silva, Brazil, 14, 8,320
Melissa Humana-Paredes/Sarah Pavan, Canada, 12, 8,240
Brooke Sweat/Kerri Walsh Jennings, United States, 14, 6,540
Marta Menegatti/Viktoria Orsi Toth, Italy, 12, 5,060
Joy Stubbe/Marleen Van Iersel, Netherlands, 12, 5,040
Natalia Dubovcova/Andrea Strbova, Slovak, 12, 4,960
Miki Ishii/Megumi Murakami, Japan, 15, 4,140
Vasiliki Arvaniti/Penny Karagkouni, Greece, 13, 3,580
Michaela Kubickova/Michala Kvapilova, Czech Republic, 15, 3,260
Aline Chamereau/Alexandra Jupiter, France, 12, 3,220
Angela Lobato/Amaranta Navarro, Spain, 14, 3,180
Khanittha Hongpak/Varapatsorn Radarong, Thailand, 14, 2,800
Suzuka Hashimoto/Sayaka Mizoe, Japan, 14, 2,730
Laura Caluori/Dunja Gerson, Switzerland, 13, 2,700
Ayumi Kusano/Takemi Nishibori, Japan, 12, 2,680
Diana Lunina/Maryna Samoday, Ukraine, 16, 2,620
Laura Bloem/Jolien Sinnema, Netherlands, 12, 2,600
Nai-Han Kou/Pi Hsin Liu, Chinese Taipei, 12, 2,040
Ishitsubo/Shiba, Japan, 12, 1,840
Udomchavee/Numwong, Thailand, 12, 1,810
Tsopoulou/Manavi, Greece, 12, 1,720
Reika Murakami/Kaho Sakaguchi, Japan, 12, 1,700
Related links of AVC
AVC Website: click www.asianvolleyball.net
AVC Facebook: click www.Facebook.com/AsianVolleyballConfederation
AVC Twitter: click: https://twitter.com/avcvolley
AVC Instagram: click: https://www.instagram.com/avcvolley/?hl=en
AVC Youtube: click: Asian Volleyball Confederation
AVC WeChat: Asian Volleyball Confederation